A good lesson from a good friend.
The man was Bob Kenngott, my boss for 5 years and a good friend for many more. There was so much I learned from him but one thing seems especially valuable today. Bob was a scientist at the core. No matter what he was doing, it was an investigation, an opportunity to learn, another check on his notion of reality.
What I remembered of him today was his ability to be careful, thoughtful, and thorough at all times. He always appeared to be taking things slowly. Around Bob, things always stayed sensible and on track. As circumstances got crazy and people around him got frantic, Bob paid closer attention to each detail.
How was it, I wonder, that in the middle of it all he was never carried away in the craziness?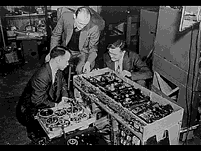 Carl W. Miller (left), Robert L. Kenngott (center), and Antonin Svoboda (right) checking the linkage computer part of Mark 56 at MIT Radiation Laboratory.